At Stockton Amateur Swimming Club, we are very proud of our Member's achievements at all levels 
On an annual basis at the club Christmas Party, awards are given out for various achievements across the previous year. Our current holder for the various 2010 awards are: 
Best Female Swimmer – Poppy Crawford

Best Male Swimmer – Luke Myers

Most Improved Female Swimmer – Danielle Smith

Most Improved Male Swimmer – Bethel Mayo

Most Polite Girl – Hannah Walker

Most Polite Boy – Viven Alain

Award for Services to Stockton ASC – Lauren Sinden

Richard Walburn Trophy (since 2009) – Charlotte King
Age Group Overall Champions  – awarded for the male and female who scores the most points across all events per age group at the Annual Club Championship Galas as per the table and photograph below:


for the Role of Honour of Past Annual Award Winners please click here  
As well as our annual awards, our heritage includes British, European and World Champion Cliff Ward, Olympians Jemma Lowe and Jess Dickons and British Swimming ITC Coach Graeme Antwhistle. We look forward to helping all of our swimmers achieve their hopes and dreams in the pool.
  
Cliff Ward M.B.E.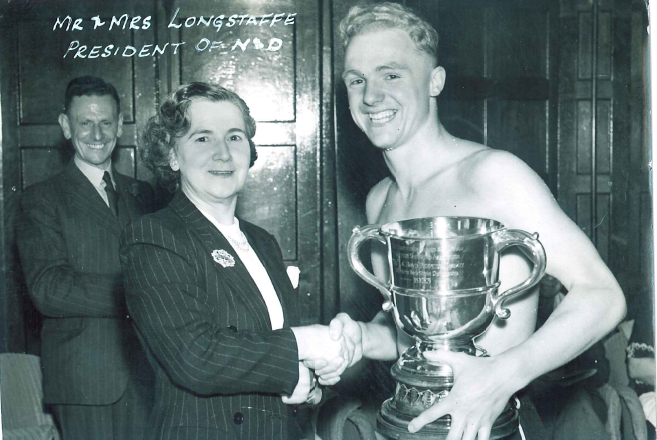 Cliff Ward, a member of Stockton Amateur Swimming Club Masters, has been World Champion for the 50m Backstroke four times & 100m Once. 
Cliff has been swimming since he was 12 years of age and trains with the Stockton Amateurs Masters at Splash for 3 hours per week and has been associated with the club for over 60 years. He is currently Honorary Secretary of Stockton Swimming Club and was instrumental in the creation of the Borough of Stockton Swimming Scheme. 
During his swimming career which currently spans over a remarkable 68 years, Cliff has amassed countless trophies, medals, awards, records and even an M.B.E.!!!
Cliff can still be seen swimming regularly at Stockton ASC Masters sessions and if you have ever had the honour of meeting Cliff and seeing him swim, you would call him a liar if he told you his age (go on, ask him next time you see him but he is definetly testament to the claim that swimming keeps you fit and looking young)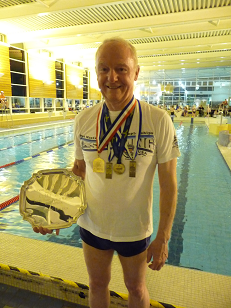 Amongst Cliff's haul of more impressive awards are the following honours:
1986 1st European Champion Blackpool- 55-59 Years Age group GB & European Record.
1991 European Champion Coventry-60-64 Age Group 50m Backstroke GB & European Record.
1992 World Champion- Indianapolis USA-  60-64 Age Group 50m Backstroke European Record.
1996 World Champion- Sheffield UK -65-69 age Group. 50m Backstroke GB & European Record.
2001 European Champion – Mallorca Spain- 70-74 Age Group GB & European Record & 200m Backstroke GB Record.
2002 World Champion- Christchurch New Zealand 70-74 Year Age Group  
50m Backstroke  GB & European Record.
2003 European Champion- Millau France 70-74 Year Age Group 50m,100 & 200m Backstroke
2006 World Champion – Stanford USA 75-79 Age Group GB & European Records 50m  & 100m Backstroke.
2007 Kranj Slovenia European Champion 75-79 Age Group 50m, 100,&  200m Backstroke
Keep up the great work Cliff – you are a true inspiration to our past, current and future swimmers
Clem Laidler – Stockton-on-Tees Coach of the Year 2010
The work of sports clubs, coaches and volunteers across Stockton Borough was recognised at the annual Stockton-on-Tees Club and Coach Awards ceremony which took place on Friday, 3 September 2010.
This is the sixth year the Awards have been held and they recognise the dedication and hard work shown by coaches and volunteers throughout the year.
The Mayor of Stockton, Councillor Colin Leckonby, presented the awards which were held at The Wynyard Rooms with our very own Clem Laidler taking the award for Coach of the Year.
Councillor Ken Lupton, Leader of Stockton Council, said: "Congratulations to all the people recognised in the Awards. So many sporting opportunities would not be available without the dedication and commitment shown by coaches and volunteers.
"The Awards ceremony is a fitting way to celebrate so many achievements and success stories. Well done."
Jemma Lowe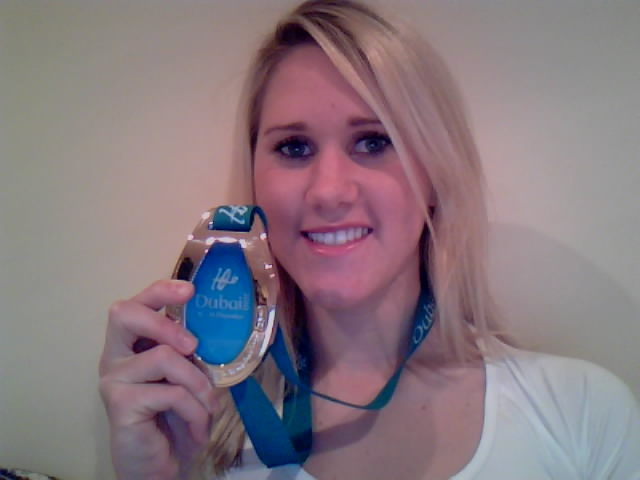 Jemma Louise Lowe (born 31 March 1990) is a Stockton ASC, British university and international butterfly swimmer and British record holder 
Jemma was born in Hartlepool, England. She has just returned from the University of Florida in Gainsville USA, where she swam for coach Gregg Troy's Florida Gators swimming and diving team in National Collegiate Athletic Association (NCAA) competition. Jemma is now back in the UK and is swimming with British Swimming's ITC down in Swansea under the guidance of coach Bud McAllister  
Jemma competed for Great Britain at the 2008 Summer Olympics in Beijing in the 100-metre and 200-metre butterfly swimming events, as well as the 4×100-metre medley relay. She finished sixth in the 100-metre final with a time of 58.06 and reached the semi-finals of the 200-metre butterfly, coming ninth with a time of 2:07.87. She was also part of the women's 4×100-metre medley relay that came fourth in a European record time of 3:57.50. 
Jemma also competed in the 2008 FINA Short Course World Championships, coming third in the 100-metre butterfly and women's 4×100-metre medley relay, as well as fourth in the 200-metre butterfly. She was also part of the women's 4×100-metre medley relay team that won the 2008 European Championships in a then European record. 
As her father is Welsh, Jemma competes for Wales at the Commonwealth Games and won a bronze medal in the 100-metre butterfly in the 2010 Commonwealth Games in Delhi. 
Jemma holds the British records for 100-metre and 200-metre butterfly at both long and short course. She set her long course times at the British Championships (which acted as a qualifier for the Olympics), where she came first in the 200-metre butterfly and second in the 100-metre (she later equaled her 100-metre mark at Beijing). Her short course times for 100-metre and 200-metre butterfly were achieved at the World Short Course Championships and the Middlesbrough Open respectively 
Jessica Dickons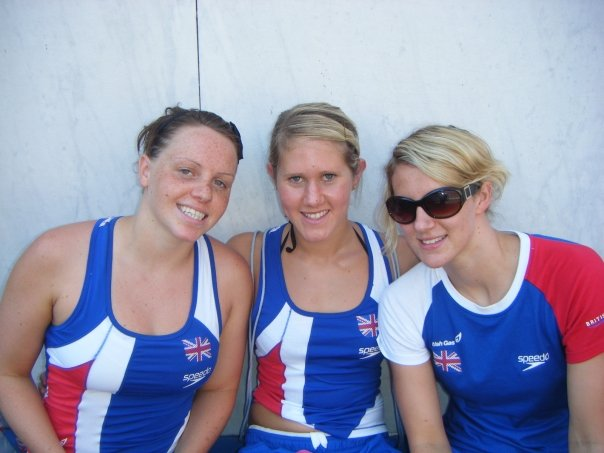 Jessica Dickons (born August 17th 1990) is a Stockton ASC swimmer and lifelong member who likes to return to her swimming roots when her tight schedule allows. Born in Stockton-on-Tees, Jess attended Our Lady & St Bede's School, followed by Stockton Sixth Form College. Throughout her swimming career, Jess has continued to better herself both in the pool and academically, swimming with Stockton ASC for the first 12 years of her swimming career and with BOSSS from it's foundation right up to the 10 year anniversary. After leaving BOSSS in 2008, Jessica went to swim in Edinburgh for 2 months from where she moved to Paris (France) independently in 2008 for 1 year to live and train with Lagardere Paris Racing under Coach Fred Vergnoux. In 2009, Jess moved back to the UK to swim at Bath Intensive Training Centre with coach David McNulty and where she has also linked back up with her previous coach of 10 years Graeme Antwhistle (also previously of Stockton ASC and BOSSS – see article below).
Currently, Jess remains at Bath ITC where she mixes a rigorous training regime at the same time as doing her degree in Sports Performances at The University of Bath. Jess hopes to become a Secondary School P.E Teacher in the Future (we can already guess what her future pupils will excel at!)
Amongst her personal achievements, Jessica proudly lays claim to the following honours:
2005 European Juniors Hungary, Budapest (Bronze 200 Fly)
2006 European Juniors Palma, Mallorca (Gold 200 Fly British Junior Record) (Silver 400 IM)
2006 European Short Course Championships Helsinki, Finland- Bronze 200 Fly, British Senior Record 2.07.36
Two Long Course World Championships; Melbourne Australia 2007 (semi final – 13th) / Rome Italy 2009
2008 narrowly missed out on Olympics Qualification
Short Course World Championships Manchester, Bronze in 200 Fly (British Record)
Current English Short Course 200 Butterfly Record Holder with a time of 2.05.09, beating previous World Record but came 3rd behind American & Australian swimmers
2008 European Championships Croatia (final 200 Fly)
2010 Commonwealth Games, Delhi India- 200 Butterfly 6th
PB's – 200 Fly L.C – 2.08.20         200 Fly S.C – 2.05.09         100 Fly L.C – 59.81         100 Fly S.C – 59.78         400 IM L.C – 4.47.6
Richard John Walburn March 27th 1985 – July 12th 2009 R.I.P.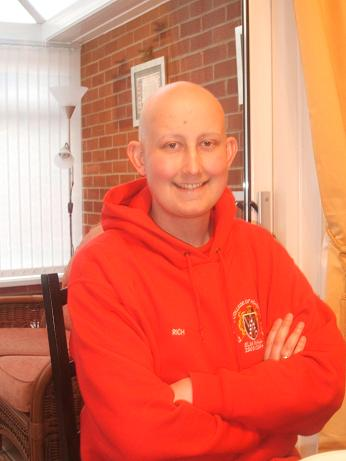 Sadly, not every story has a happy ending but we take this opportunity to honour, pay tribute to and remember Richard Walburn who was a Stockton ASC member, swimmer and coach.
Richard was a keen all round sportsman at school receiving awards and certificates for a variety of sports ranging from Rugby League to Badminton, but he proved to be a particularly talented swimmer. Chris Pearson who was the pool supervisor at Richards school Our Lady and St. Bede's in Stockton, remembers Richard being streets ahead of the other pupils whilst training in the school swimming pool. In fact Richard was named 'OLSB Swimmer of the Year' as early as year 8, when it was stated that "on several occasions he put the interests of the team before his own personal gain" – typical of Richard, always thinking of others and doing his best for the team.
Richard was a dedicated and talented member of Stockton ASC and was selected to represent the North East Counties at an 'England's Future Hopefuls' trials at Ponds Forge in Sheffield. In year 9 Richard further demonstrated his ability as he and his school team mates became British Schools Biathlon under 15 National Team Champions. Sadly, it was the very next day after his great success, that Richard's tumour was first diagnosed in November 1998. Richard's love of swimming stayed with him throughout his life by dedicating countless hours of his own time to coaching youngsters at Stockton ASC. Everyone who came to know Richard at the swimming club, were deeply touched by his dedication and courage. Even after he was told that his condition was terminal and there was nothing more that the doctors could do, Richard continued his voluntary coaching sessions. Head Coach Clem Laidler, who has know Richard from when he was a competitive junior swimmer, speaks for everyone at the club by saying "He is such a brave lad, he really is amazing. We respect his courage immensely. It is a very humbling experience to be working next to him."
Being a teenager is not easy at the best of times, so it must have been incredibly difficult for Richard, having to contend withthe hair loss associated withhis treatment. But Richard coped withthis amazingly well and withgreat humour. Richard's form teacher from school remembers him bringing in a photograph of himself with Olympic Gold medal winning swimmer Duncan Goodhew – 2 baldies together!  Richard had met Duncan through completing the BT Charity Swimathon in March 2000, where he swam 1500 metres in aid of charity. Richard continued throughout his life thinking of others and involving himself in many charity fundraisers.
Richard's memory lives on at Stockton ASC through our sponsored swim each year from which, part of the funds we raise goes to Richard's nominated charity The Toma Fund which helps to improve the lives of children, teenagers and young people across the North East and Cumbria whose lives have been affected by cancer. Additionally, Richard's parents Judy and Denis still maintain their strong friendship with our club and can be seen regularly visiting training sessions, the monthly quiz nights and social events.
To honour Richard, Stockton ASC created the Richard Walburn Award, which is presented at our annual awards ceremony to the club member who shows courage, perseverance and commitment in overcoming adversity – everything that epitomised Richard Walburn 
Greame Antwhistle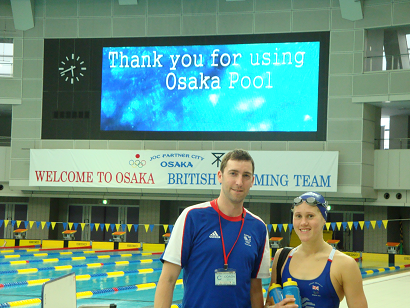 Ex Stockton ASC and BOSSS Head Coach (1998 to 2008) Graeme Antwhistle Likes to keep up to date with the news and successes of our club. Graeme moved on from coaching our swimmers and was rewarded for all his dedication and hard work in the sport as he has been coaching our nations elite swimmers  in his current position of BRITISH SWIMMING / BATH ITC Coach since 2008 to present day
Amongst his personal achievements, Graeme proudly lays claim to being:
British Swimming Coach – 2006 – Present (including Dual Meets, National Camps, ITC training etc.)
Team GB Olympic Coach – Beijing 2008
World Short Course Championships Group Coach – Manchester 2008
Elite Coach Program, UK Sport 2006 – 2009
Alan Hime Memorial Trophy (British Swimming Coaches and Teachers Association)
World Swimming Championships Melbourne 2007
European Junior Group Coach Budapest 2005 & Palma, Majorca 2006
Graeme's personal success stories also include:
Senior GB Athletes Coached @ Stockton ASC/BOSSS
Jessica Dickons – World SC Bronze Medalist 2008, European SC Bronze Medalist 2007, World LC Championships 2007, European Junior Champion 2006
Jemma Lowe – Olympic Games 2008, World SC Bronze Medalist 2008, Commonwealth Games Finalist 2006, European Junior Champion 2006
Youth Internationals and National Medallists @ Stockton ASC/BOSSS
Andrew Winspear, Matthew Allison, Ashleigh Forster, Catriona Bruce,
BATH ITC Athletes competing at – World Championships 2009, Commonwealth Games 2010
Swimmers Including; Darren Mew, Matt Clay, Michael Jamieson, Andrew Willis, Kris Gilchrist, Chris Walker Hebborn, Jessica Dickons