Stockton Amateur Swimming Club was formed in 1876 – as a men only club. No minutes or records are available on how and who were involved in the formation of the club, but it is believed to be the second oldest club in the Northumberland and Durham area. The club sessions were held in the old baths at Portrack Lane, Stockton on Thursday evenings, May until October, the baths being closed November to April. The oldest annual fixtures we have records of are from 1887 as below: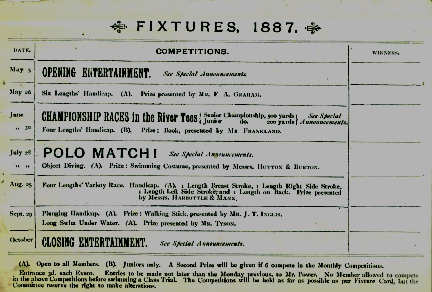 In 1888 the club affiliated to the Durham Association of Swimming Clubs. In 1889 ladies were allowed onto the committee and a ladies section was formed with bath time on Thursday afternoons, May until October.
1892 saw South Stockton and Thornaby village amalgamate to from a borough in their own right. In 1900 the ladies section formed their own club – Stockton & Thornaby Ladies Amateur Swimming Club. In 1902 the Stockton Amateur Swimming Club changed it's name to Stockton & Thornaby Amateur Swimming Club.
The separate but associated clubs carried on until 1939 when the war stopped all activities for a spell.
The council for Cultural and Physical Recreation's local organiser assisted the clubs to restart their activities during the awkward times of restricted hours, bombing and blackouts. The men's club struggled through but the ladies ceased activities until the end of hostilities. During this period the mens and ladies section combined to organise the "Wings for Victory" & "Holiday at Home" galas in conjunction with the CCPR and Stockton Town Council.
In 1945/46 both clubs started to rebuild and expand back to their pre-war activities. The clubs still held on Mondays (ladies) and Thursdays (men) May until October. The clubs decided to form a combined mixed swimming club – Stockton Mixed ASC, to operate during the winter months. The club was formed in 1946 and was very successful until the Chairman, Secretary and Treasurer all resigned due to illness. Replacements could not be found; so, with the deep regret of all officials and members, it was wound up in Feb. 1959.
In 1947, because Thornaby now had its own separate swimming club. "Thornaby Shiverers", both the mens and ladies clubs dropped Thornaby from their titles. These two clubs carried on until 1969 when both mens and ladies clubs amalgamated to form the "Stockton Amateur Swimming Club" with the club night on Thursdays and running all year round.